Filter by Date
Filter by Date
SUN
MON
TUE
WED
THU
FRI
SAT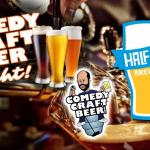 BUY TICKETS
Thursday April 25th 07:30PM
Join us for the 1st ever Connecticut Comedy Festival! Four days jam packed with comedy performed all over the Connecticut area, including Fairfield, Stamford, Norwalk, and Penfield Beach. The soon-to-be annual tradition will have performances from some of the top comedians from all over the country including the New York comedy scene, and local talent!
BUY TICKETS
Thursday April 25th 08:00PM
Kick Off the Connecticut Comedy Festival at the Wall Street Theater with the one and only, Chris Distefano!Chris Distefano is poised to have a busy 2019. With his first hour standup special premiering, his popular TV series extended, and an overall deal with Comedy Central, Chris has become a favorite with audiences and industry insiders alike. Chris' first hour standup special Chris Disefano: Size 38 Waist premiered on Comedy Central on January 18 th , 2019. His half hour standup special premiered on the network in 2014. Chris' weekly interstitial Comedy Central series Stupid Questions with Chris Distefano was also just extended for a new batch of episodes. The series, created to intertwine Comedy Central's stand-up world with its deep archive of classics during the network's stand-up heavy Friday nights, features Distefano and a guest out late, catching up, and doing their best to answer stupid questions. There are no wrong answers, just truly stupid questions.