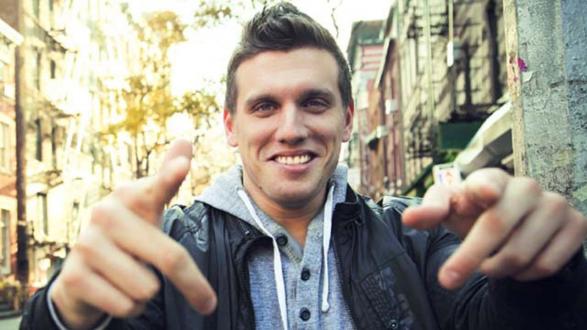 Chris DiStefano
Described as a high energy comic, Chris Distefano acts out a variety of characters derived from his life, typically leaving you on the edge of your seat wondering "Who the hell is that he's talking about?" Chris has worked at all of the top comedy clubs across New York City including but not limited to Gotham Comedy Club, Broadway Comedy Club, Caroline's on Broadway, and the Laugh Lounge. Chris still lives in Brooklyn, NY with his Mom (punch line). Chris has a Bachelors degree in Psychology to impress his mom's friends, and a Doctorate in Physical Therapy to impress his Moms friend's Moms. That kind of thinking got him on the SNY network as the host of the 2010 Fencing Masters at Hammerstein Ballroom. It also got him all the way to the Final 4 of the 2011 March Madness Comedy Competition at the world famous Caroline's on Broadway. Chris also headlined at Caroline's this month and recently opened for Gilbert Gottfried & Dustin Diamond. When he's not making witty remarks (like the ones you've just read) or transforming into various personas on stage, you can find him stretching people's hamstrings and getting yelled at to clean his room.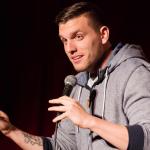 RESERVE NOW
Friday October 23rd 08:00PM
Chris Distefano performs LIVE for a sold-out, socially distanced audience at The Wall St. Theater that will be streamed live for his fans all over the world!New York-based actor and comedian Chris Distefano is a star on the rise. With much-praised standup specials, a beloved history and comedy podcast, and a popular TV series, Chris has become a favorite with audiences and industry insiders alike. Chris is gearing up to shoot his second-hour standup special for Comedy Central in 2020. His first-hour standup special Chris Distefano: Size 38 Waist premiered on the network in 2019 and his half-hour standup special premiered in 2014. Chris also hosts the weekly interstitial Comedy Central series Stupid Questions with Chris Distefano. The series, created to intertwine Comedy Central's stand-up world with its deep archive of classics during the network's stand-up heavy Friday nights, features Distefano and a guest out late, catching up, and doing their best to answer stupid questions. There are no wrong answers, just truly stupid questions.